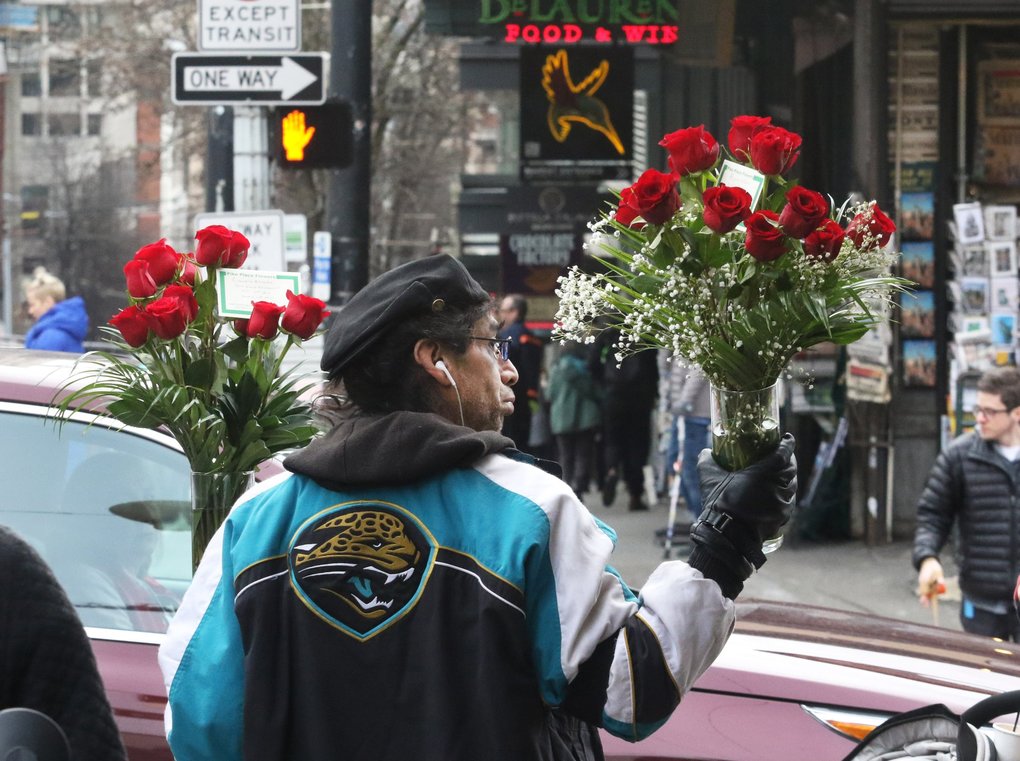 It is our job to get your flowers delivered, and for the last 50 years we have been pretty successful. So, whether its by truck, plane, car, horse or walker we will do what it takes to get your flowers delivered.
We are Pike Place Flowers and we are a real, family owned, local florist in Seattle, WA. We provide flower delivery to Seattle and the surrounding areas. We deliver flowers 7 days a week.
Located at the gateway to the Pike Place Market in the heart of Seattle. We are available for delivery throughout downtown until 3:00 PM daily. That means same day delivery and most of the areas outside of the downtown have a 2:00 PM daily cut-off, that's good news for last minute.
Ordering flowers can be done through our website, calling us directly 206-682-9797 or walking into our store on the corner of 1st and Pike Street.
Picking up flowers is just as easy, although the traffic in downtown can be a mess. Order flowers and get them at our curbside pick up. Head south on 1st Ave and give us a heads up 1 block away and we will be waiting for you at the curb in front of the Shop.
Neighborhoods
Ballard, Magnolia, Queen Anne, Lower Queen Anne, Seattle Center, Lake Union, Capital Hill, South Lake Union, Beacon Hill, West Seattle, Central District,, Madison Park, University District, Windermere, Sand Point, Madrona, Seward Park, Wallingford, North Admiral, Fremont, Greenwood, Leschi, Bitter Lake, Montlake, Mount Baker, Fauntleroy, Northgate, Sunset Hill, Carlton Park, Columbia City ,Belltown, South Park, Georgetown, Sodo, Hillman City, Rat City, White Center, Broadview, North Beach, Blue Ridge, CrownHill, Haller Lake, Pinehurst, Licton Park, Maple Leaf, Cedar Park, Lands End, Interbay, Eastlake, Matthews Beach, Meadowbrook, Olympic Manner, Olympic Hills, Victory Heights,Viewridge, Edgewood, Wedgewood, Roosevelt, Bryant, Ravenna, Hawthorne Hills, Laurelhurst, University Village, U dististic, North Lake, Green Lake, Phinney Ridge, West Woodland, Woodland Park, Whittier Heights, Adams, Loyal Heights, Lawton Park, Portage Bay, Roanoke, Broadway, Stevens, Interlaken, Madison Valley, Broadmoor, Cascade, Denny Triangle, Pioneer Square, First Hill, International District, Chinatown, Yesler Terrace, Mann, Minor, Cherry Hill, Squire Park, Judkins Park, Rainier Valley, Harrison, Denny-Blaine, Washington Park, Columbia City, Rainier Beach Atlantic City Beach, Seward Park, Holly Park, Harbor Island,West Seattle, Alki,Arbor Heights, Delridge, Fairmount Park, Gatewood, Genesee, Seaview, West Woodland, Whittier Heights, Briarcliff, Briarcliff, Pigeon Point
Hotels
Centrally located in downtown Seattle we are close to most of the hotels downtown. The Inn At The Market, Four Seasons Hotel, Grand Hyatt, Westin Hotel, Hotel 1000, Maxwell Hotel, Hotel Vintage Park. Kimpton Hotel, Pan Pacific Hotel, Thompson Hotel, Fairmont Olympic, Watertown Hotel, Hotel Max, Silver Cloud Hotel, Edgewater, Sheraton Hotel, Motif, Olive 8, Hotel Theodore, Mayflower Park, W Hotel. Palladian Hotel, Marriott Waterfront, Hotel Andra
Buildings
we make same day deliveries to most of the business in Seattle,  we specialize in getting your flowers into downtown building as quick as possible.  Here are just a few of our faviorte building and 3 we don't like.  1111 3rd ave,  Amazon – Mayday  1220 Howell St, Seattle, WA 98101,  Amazon – Doppler-2021 7th Ave, Seattle, WA 98121, 325 9th Ave N
Funeral Homes
We make daily delivery's to all the local Funerals home. Hoffner Fisher and Harveys, Acacia Memorial Park and Funeral Home, Harvey Funeral Home, Wiggins Funeral Home, Peoples Memorial, Butterworths, Barton Family Funeral Service, Manning and Sons,Columbia Funeral Home, Beck's Funeral Home, Cady Cremation Services, Cascade Memorial, Columbia Funeral Home & Crematory, Elemental Cremation and Burial, Emmick Family Funeral Services, Evergreen Washelli, Flintofts Funeral Home & Crematory, Harvey Funeral Home, Howden-Kennedy Funeral Home, Island Funeral Service, Marlatt Funeral Home & Crematory, Serenity Seattle, Yahn & Son Funeral Home and Crematory,
Hospitals
We deliver to hospitals 7 days a week too: Swedish Hospital, Childrens Hospital, Kaiser Permanente Downtown Seattle Medical Center, Seattle Dermatology Center, The Polyclinic Downtown, Virginia Mason Hospital and Seattle Medical Center, Virginia Mason Hospital: Seattle, Live Lightly And Well | Ophelia Blue, Boxbar Vascular, General Internal Medicine Center at UWMC-Roosevelt, Seattle Children's Autism Center, Seattle Children's Heart Center, Seattle Children's Hospital, Seattle Children's Nephrology, Seattle Children's Neuroscience Center,Immediate Clinic Capitol Hill, Seattle Rheumatology Associates, Swedish, Endocrinology at VirginiaMason, Swedish Cherry Hill Campus, Swedish First Hill Campus, Swedish Multiple Sclerosis Center – Seattle, The Polyclinic Broadway Swedish Primary Care – Sand Point, UW Medical Center-Roosevelt, Vital Kids Medicine, Swedish Medical Center Ballard Campus, Tallman Medical Office Building, The Polyclinic Ballard, CurPoint Orthopedic Seattle WA, Immediate Clinic Queen Anne, Psychiatric Medicine Associates, Seattle Cancer Care Alliance, Swedish Physicians, Dunshee Medical, Kaiser Permanente Capitol Hill Campus, Kaiser Permanente Northgate Medical Center, MindBody Med, Ballard Pediatric Clinic, Carolyn Downs Family Medical, Carolyn Downs Family Medical Center,