The best flower shop in Seattle. Voted #1 florist in Seattle, by Seattle Weekly. Freshest flowers. Downtown daily delivery to all hotels.
Come down to the corner of First and Pike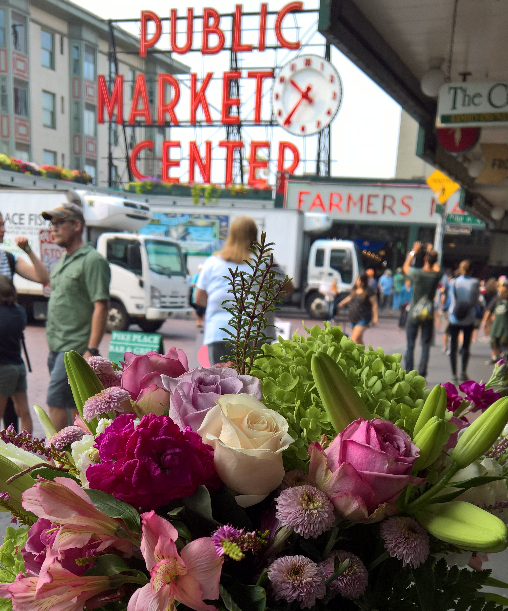 Daily Delivery to all Seattle downtown hotels. Sending flowers to a hotel in downtown Seattle is easy when you use a local florist.  For over 50 years we have taken care of hotels in Downtown Seattle.
Inn at the Market
Warwick Seattle
Crowne Plaza

Travelodge by Wyndham Seattle By The Space Needle

Hilton Garden Inn Seattle Downtown

The Paramount Hotel

Mayflower Park Hotel

Hilton Seattle

Hyatt Regency Seattle

Staypineapple, The Maxwell Hotel, Seattle Center Seattle
Floral Delivery to Seattle Hospitals. we make daily delivers to all the Health care facilities
Swedish Hospital
Cherryhill
Virginia Mason  https://www.virginiamason.org/seattle

Seattle Children's Hospital 4800 Sand Point Way NE, Seattle, WA 98105  https://www.seattlechildrens.org/

UW Medical Center – Northwest1550 N 115th St Seattle, WA 98133  https://www.uwmedicine.org

 Harborview

VA Puget Sound Health Care System – Seattle Division
we also service
1. Broadview Senior Care Adult Family Home LLC 12535 Eighth Ave NW Seattle, WA 98177
Centrally located in the heart of Downtown at the gateway to the world famous Pike Place Market (https://www.pikeplacemarket.org/). we are available for delivery into most of the office building.  We are close to the Amazon headquarter including
1. Amazon Doppler2021 7th Ave. Seattle, WA 98121
Amazon Kumo1915 Terry Ave Seattle, WA 98101
Amazon Dawson321 Terry Ave N Seattle, WA 98109
Amazon Day 12121 Seventh Ave Seattle, WA 98121
Amazon Blackfoot1918 8th Ave Seattle, WA 98101
Amazon Arizona 207 Boren Ave N Seattle, WA 98109
Amazon Brazil400 9th Ave N Seattle, WA 98109
Amazon Coral 2201 6th Ave Seattle, WA 98121

Amazon Houdini North 399 Fairview Ave N Seattle, WA 98109

Amazon Bigfoot 515 Westlake Ave N Seattle, WA 98109

Amazon Oscar 1007 Stewart St Seattle, WA 98101

Amazon Otter 2301 5th Ave Seattle, WA 98121

Amazon Blueshift 300 Pine St Seattle, WA 98181

Amazon Houdini South 300 Boren Ave N Seattle, WA 98109

Amazon Day 1 2121 Seventh Ave Seattle, WA 98121
A great selection of Flowers
Roses
Dahlias
Babies Breath
Alstroemeria
Statice
Big Bouquets
 Funeral easels
Carnations
Mini Carnation

Acanthophippium
Acineta
Ada
Aerangis
Aeranthes
Aerides
Aganisia
Amesiella
Ancistrochilus
Angraecum Anguloa

Anoectochilus
Ansellia
Arachnis
Arpophyllum
Arundina
Ascocentrum
Ascoglossum
Aspasia
Dendrobium
Dendrochilum
Dendrophylax
Dimerandra
Dinema
Dipteranthus
Disa
Dockrillia
Domingoa
Doritis
Dracula
Dresslerella
Dressleria
Dryadella
 
We make deliveries for Weddings, Get Well,  Funerals, birthdays, Anniversary's to
104 Pine St Seattle, WA 98101
1900 1st Ave Seattle, WA 98101
2015 2nd Ave Seattle, WA 98121
535 Pontius Ave N
Seattle, WA 98109
101 Taylor Ave N
Seattle, WA 98109
525 Boren Ave N
Seattle, WA 98109
1808 Minor Ave Seattle, WA 98101
3028 1st Ave Seattle, WA 98121
Millennium Tower
ESCALA Condos
Fifteen Twenty One Second
Art Stable
First Light Condos
The Emerald
Olive 8 Condos
Four Seasons Residences
Watermark Tower
Madison Tower
First Hill Plaza
Insignia Condos
Cosmopolitan Condos
5th and Madison
Bellora Condos
First Hill Plaza
Colonial Grand Pacific Condos
Fix Madore Lofts
Newmark Tower